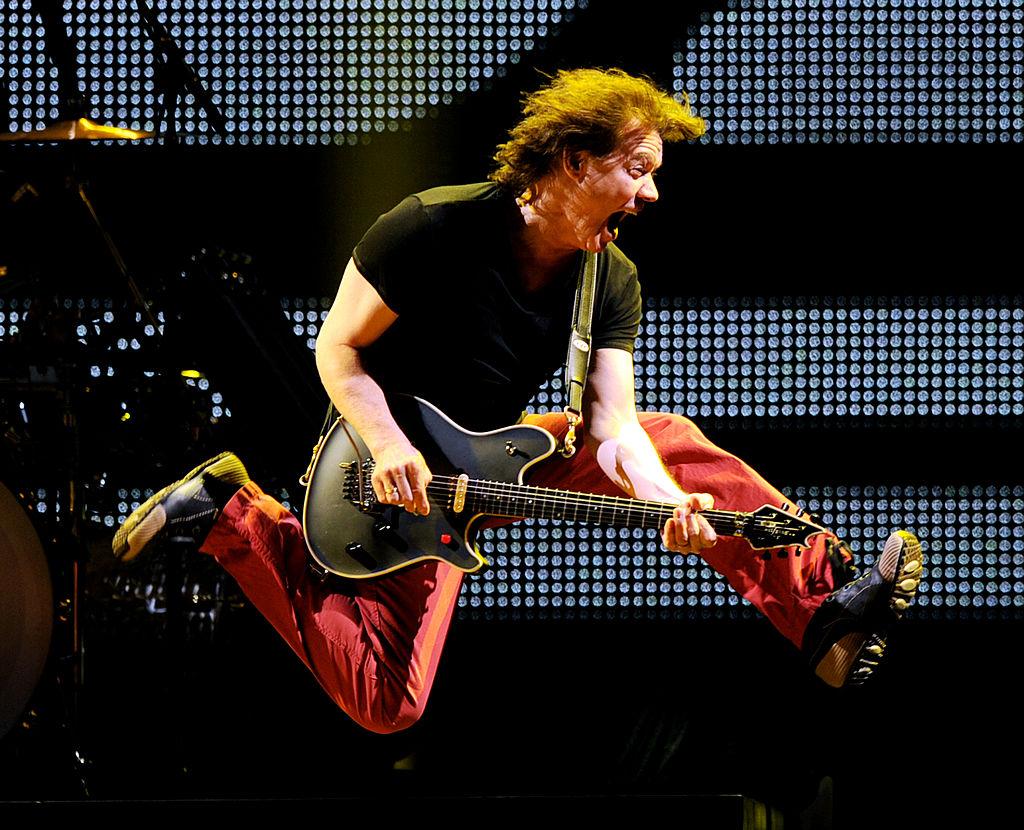 (Photo: Kevin Winter/Getty Images)
In a statement shared on Twitter, Van Halen's son Wolfgang said his father died on 6 October.
"I can't believe I'm having to write this," he said, "but my father, Edward Lodewijk Van Halen, has lost his long and arduous battle with cancer this morning.
"He was the best father I could ever ask for. My heart is broken and I don't think I'll ever fully recover from this loss."
Wolfgang, who became Van Halen's bassist, added: "I love you so much, Pop."
Celebrity news website TMZ reports that Van Halen's health had declined in the last 72 hours, with doctors discovering the cancer had moved to his brain as well as other organs.
Eddie Van Halen was born in Amsterdam in 1955.
He and his family moved from the Netherlands to the United States in 1962, around the same time Eddie and his brother Alex began their first forays into music, taking up piano lessons at the age of six.
Later in life, Eddie would reveal that he had never been able to learn music, and instead learned by watching and listening, improvising his parts during classical music recitals.
A few years later, Eddie actually took up the drums as he was no longer finding the piano challenging, while Alex began learning guitar.
But after hearing a particularly impressive solo in a song, Eddie switched to the stringed instrument, becoming enthralled with it and sitting in his room for hours with the door locked.
Eddie and his brother formed their first band, The Broken Combs, while still at school, performing at lunchtime concerts.
It was during this period when he first felt the desire to become a professional musician.
When did Van Halen form the band?
Eddie and Alex founded Van Halen in 1972, though for the first two years of the band's life, it went under a different name.
Now relocated to Los Angeles, the band became a firm fixture of the local music scene, playing at well-known clubs. In 1977, Warner Records offered Van Halen a recording contract.
The band released their eponymous debut album in 1978, and it shot to number 19 on the Billboard charts.
It became one of the most successful debuts of the decade and highly regarded as both a heavy metal and hard rock album.
By the early 1980s Van Halen – which also featured Michael Anthony on bass and David Lee Roth as singer – was one of the most successful rock acts of the time.
Their biggest hit came in 1984, when their song 'Jump' became the band's first and only number one pop hit and garnered them a Grammy nomination.
The band sold more than 80 million records worldwide.
Van Halen is regarded as one of the best guitarists of all time, and popularised the technique of tapping, using the fingers on both the left and right hands on the guitar neck.
An example of two-hand tapping can be heard in Eddie's 1978 instrumental solo 'Eruption'.
Eddie also produced solo work and collaborated with other musicians like Kiss bassist, Gene Simmons and Brian May, and worked on film soundtracks alongside his brother.
One of his most famous moments came in the Michale Jackson hit 'Beat It' – on this track, Van Halen provides the two guitar solos, a job which he did for free, and uncredited.
Van Halen struggled with alcoholism and drug abuse throughout his life – though had been sober since 2008 – and began receiving treatment for tongue cancer in 2000, undergoing surgery which removed roughly a third of his tongue.
He was declared cancer-free in 2002, but was later hospitalised in 2019 after battling throat cancer for five years. He died on Tuesday 6 October 2020 at the age of 65.