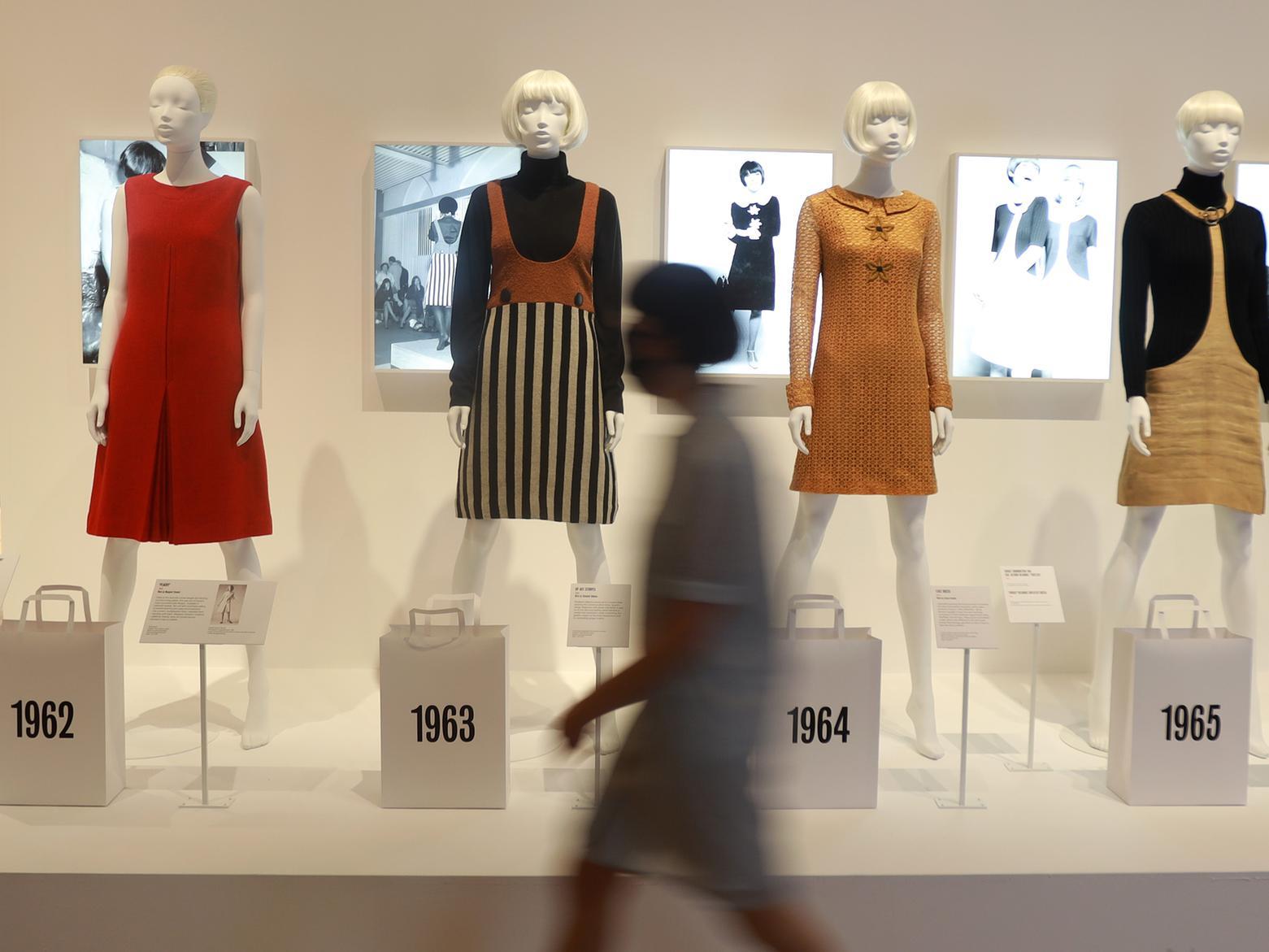 The Mary Quant exhibition opens at V&A Dundee today.
Now a vibrant celebration of 1960s icon Mary Quant has become the first major display to be unveiled in Scotland since museums and galleries were forced to close by the pandemic.
V&A Dundee's show, which launches today to coincide with the reopening of the waterfront attraction after five months, will recall how Quant's early designs and her first boutique caught the imagination of young women in London as it emerged from post-war austerity.
Now the bright and bold colours of V&A Dundee's first ever fashion exhibition, which was partly installed at the museum when it was forced into lockdown, are set to help boost the city's own standing as it emerges from lockdown.
Health Tilbury, a former director of Mary Quant's fashion empire, has been an official consultant on the exhibition. Picture: Michael McGurk.
Spanning 20 years, from the opening of Quant's celebrated first shop, Bazaar, in Chelsea in 1955, the V&A show recalls how she went from making dresses to becoming one of the influential figures in both fashion and feminism of the era, with her clothes modelled by iconic "Swinging Sixties" models such as Twiggy and Jean Shrimpton.
The exhibition explores how Quant's stores and designs helped turn clothes shopping into a leisure activity, with the King's Road in Chelsea – where she had her first shop – becoming "an open-air catwalk".
The show features everything from her classic miniskirts, hotpants and colourful tights to her subversion of traditional men's suits and military uniforms into outfits aimed at young women, and her childlike and androgynous designs, which turned waistcoats, suits, trousers and caps into fashionwear for women.
Among the highlights are PVC raincoats, platform shoes, cosmetics and a sketch-book made when London-born Quant was just 14.
There is also a display devoted to the Daisy doll and outfit range Quant famously launched in the early 1970s with the tagline "The best dressed doll in the world".
Heather Tilbury, a former director of Quant's company, has been an adviser on the exhibition, which was originally staged at the V&A in London and will run in Dundee until January.
She said: "It's an amazing museum for the city. The design is so clever and the space they've got for the exhibition really allows you to flow through it.
"When it was on in London, it was divided up between the austere post-war period on the ground floor and you then went upstairs for everything from the 1960s on.
"The exhibition here shows how everything developed much more chronologically and they've really been able to juxtapose her colours and stylings. Also, not everything is in glass cases here, which is a huge advantage. It means people can get really close to the garments to see the attention to detail and the way things were finished.
"The exuberance, the fun and the energy which went into the garments is really projected in the way the exhibition has been designed here.
"It is undoubtedly a great fit for this museum, really lends itself so wonderfully to the future. Mary was always about 'Let's go on, let's do something different, let's broaden what we've got'. She had a very futuristic philosophy. She was always wanting to be doing something different and moving forward.
"When Mary opened Bazaar in 1955 there was nothing else in fashion quite like it. Young people were still dressing like their mothers, wearing twin sets and pearls. Her shorter and shorter skirts gave young women a sense of freedom, they could go to work and then go straight out in the evening. It was all about flexibility. "
VA& Dundee curator Kirsty Hassard said: "We were very fortunate because the exhibition had been built in March and we had all the mannequins on site. There was huge anticipation around this show anyway, because it was our first fashion exhibition, but being closed for five months has really accelerated the need for something like this, which is just so bold, bright and colourful.
"I think it's already really caught the attention of people in Dundee – so many of them are excited that the city has managed to get an exhibition like this.
"Fashion is such an important part of design – it's not just frivolous, it strikes a chord with so many aspects of our lives. Mary Quant came in at a time of real social change and is able to capture that moment and turn it into clothes that women really wanted to wear.
"There had not been anyone like her before she came along. She was a visionary, she was a revolutionary and such an iconic figure in British fashion."