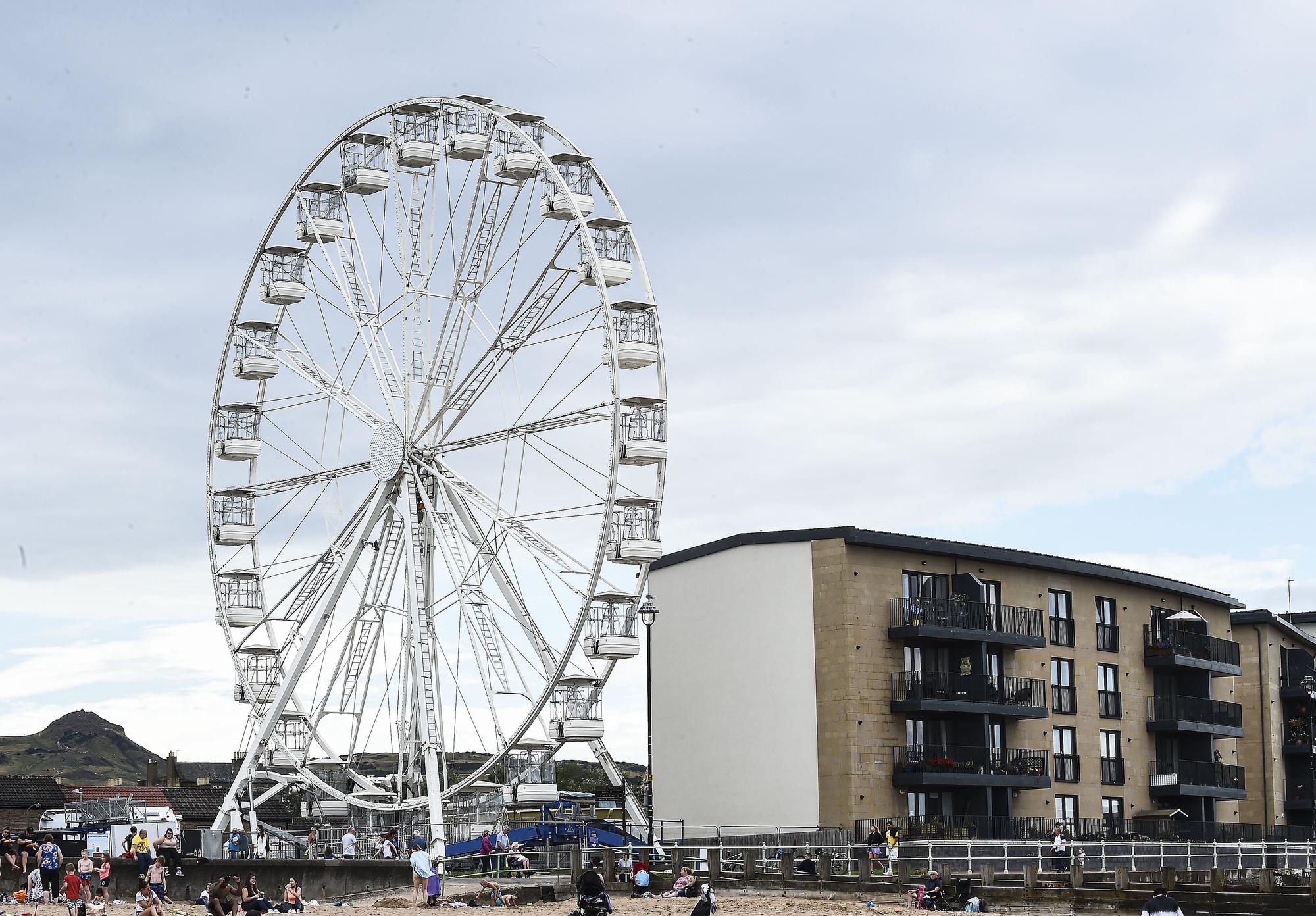 Edinburgh City Council has admitted granting a license to operators of a Ferris wheel in Portobello "in error", before banning the company from operating.
On July 31, the owners of Thomson Event Group were granted a Public Entertainment Licence by the council for the attraction – before then being told they could not due to the fact it is classed as a "funfair".
The Scottish Government had advised that funfairs could not open until at least August 24.
Operators of a Ferris wheel which has been erected at Portobello have expressed their anger at Edinburgh City Council and the Scottish Government after they were granted a licence to operate – before then being told they could not due to the fact it is classed as a funfair. (Credit: Lisa Fergson)
John Thomson, one of the operators told the Evening News: "At the moment we have a granted licence. When Nicola Sturgeon made the announcement that the country would move into phase three of lockdown and tourist attractions could open – hours later our licence was approved.
"We had the opportunity to operate in Ireland and were going to get a six-figure sum for it, but we're from Glasgow and wanted to hold out to operate in Scotland."
Thomson Event Group class the Ferris wheel as a 'tourist attraction', which comes under what the Scottish Government announced could reopen as part of phase three of reducing lockdown measures, whereas the Government and the Council are classing the wheel as a 'funfair'.
"For a funfair to be classed as a funfair, it needs to have two pieces of attraction and the wheel is standalone," John added, "You don't look at the London Eye and say its a funfair ride, its a tourist attraction, it's no difference from the dungeons or the Castle. You could even go as far as saying the Falkirk Wheel is a funfair ride if that's how the Government are classing it.
John Thomson, one of the operators told the Evening News: "At the moment we have a granted licence. When Nicola Sturgeon made the announcement that the country would move into phase three of lockdown and tourist attractions could open – hours later our licence was approved. (Credit: Lisa Fergson)
"We're angry, we've come here and erected the ride with all the right documents in place and now everything is up in the air. We're willing to work with the council and the government to come to a resolution.
"We're not cowboys who have just shown up and thought we will just chance it, we've been granted a licence to operate and the government and council haven't engaged to find a resolution."
John and his team are now unsure if they will be able to operate, despite their paperwork.
As part of their attraction in Portobello, free rides were being offered to NHS staff and carers with valid ID between the hours of 11am and 12pm. NHS workers will be able to bring one friend or family member on the ride with them for free as well.
Dominic Notarangelo, Managing Director of Padrino Design has worked with Thomson Event Group to submit their application for the licence and correspondence with the Government and council.
He said: "The Scottish Government and Edinburgh Council have failed to enter meaningful discussions.
"There was a way to resolve the impasse and the Scottish Government have failed to engage.
"At a time where Nicola Sturgeon said to go out and enjoy tourism in Scotland, that's what we've tried to do. We can evidence safety measures, and have undertaken compliance with both Police Scotland and Edinburgh City Council.
"What this comes down to is the semantics of whether the Ferris wheel is a tourist attraction or a funfair ride."
John added: "We are like any other business, we're pretty close to bankruptcy and have had no help from the Scottish Government because we're all self employed. When we got the licence approved, it was like the tide had turned.
"We just want to find a resolution to this."
At the attraction, there is clear social distancing guidance in place, hand sanitiser and a team from long-lasting antibacterial manufacturer Zoono have cleaned the wheel. Their products last for more than 30 days, which is longer than the licence length.
One neighbouring resident who did not want to be named said: "I live next to where they are setting up a large Ferris wheel. I'm very concerned about the noise that's going to be here for the next month, the noise and the pollution from the generator which is right outside our flat."
However others are supportive of the attraction, another added: "I'm a resident here and I think it's a temporary thing so why not, it's been a miserable summer for so many so a temporary period of pleasure for many I'm quite happy with that."
A Council spokesperson, said: "Under the current health protection rules, funfairs are unable to operate until at least 24 August and so the wheel can't open this weekend and will not open until public health guidance allows.
"A temporary licence was issued in error but this has now been suspended and the operator has been notified."
A Scottish Government spokesperson said: "We understand the difficulties businesses face, however it is imperative that we continue to suppress the spread of the virus, in order to maintain the progress we have made to date.
"We are therefore asking all local authorities to recommend that operators ensure that fairground-type rides are closed, regardless of their location."
Lothians MSP and Local Government spokesperson Sarah Boyack said, "There are big concerns about this Ferris wheel operating in Portobello, not least issues surrounding the approval process and disruption to the local community.
"I have been contacted by constituents and local residents who have expressed worries about health and safety, unacceptable noise and lack of consultation.
"Residents were not considered on this matter and would have been unlikely to approve of a structure that enables people to look directly into their homes, invading their privacy.
"It is unacceptable that locals, including key shift workers, should have their lives disrupted by noise including those working from home who will have to endure loud music all day, or those who have children going to sleep in the evenings.
"We are in a pandemic, and this attraction is also likely to have an impact on social distancing in an area where the police have been forced to intervene to enforce it in recent weeks.
"Areas of Aberdeen are going into lockdown once more and we have no wish to see a similar situation in Edinburgh.
"It is imperative the local councillors are involved in the approval process for proposals with such a big impact on people's lives. We need transparent and accountable decision-making, especially when it involves impacting so many people and businesses locally. The risks are simply too high at this crucial stage."
Portobello councillor, Kate Campbell, said: "The license should never have been issued. Portobello has been through enough recently. The guidance is clear – funfairs are not allowed to operate at the moment because of public safety.
"Seeing social media posts advertising that the wheel was going to be open from tonight were incredibly concerning. Residents were rightly worried about safety, increased crowds and the impact that could have on our ability to control the virus.
"It's a huge relief to hear it's been suspended and I'm grateful to officers for acting swiftly on this."
A Message from the Editor
Thank you for reading this story on our website. While I have your attention, I also have an important request to make of you.
The dramatic events of 2020 are having a major impact on many of our advertisers – and consequently the revenue we receive. We are now more reliant than ever on you taking out a digital subscription to support our journalism.
By supporting us, we are able to support you in providing trusted, fact-checked content for this website.