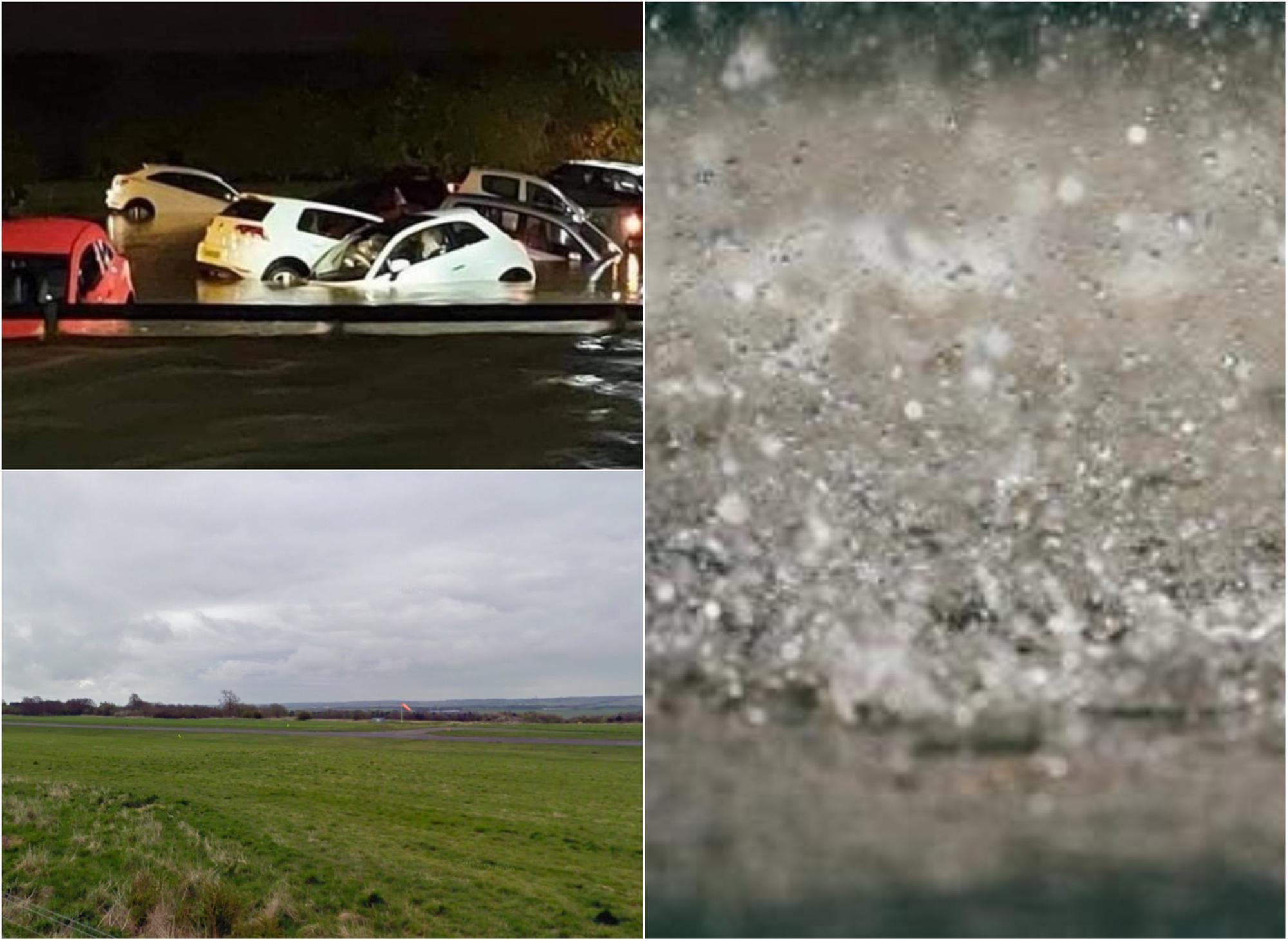 A total 105.6mm of rain (over 4.2ins) was recorded at the agency's site at Fife Airport in Glenrothes, nearly as much as the official Met Office average August rainfall total for Scotland which is 116mm (4.5ins).
Met Office spokesman Oli Claydon said the average monthly rainfall figure for all of Scotland – based on data gathered between 1981 and 2010 – is higher due to the influence of wetter areas of the country such as parts of the Highlands and Islands.
Cars were damaged after the flooding at car parks at Victoria Hospital in Kirkcaldy. Pic: Annie Blair.
SEPA figures show Fife Airport had the highest recorded amount of rain in Scotland last night, but 104.2mm (4.1ins) was also recorded in Portmoack by Kinross, with 76.8mm ( 3ins) in Perth and 65.8mm (2.6ins) in Dunnottar, Stonehaven.
Met Office sites showed lower highest rainfall totals across the country last night.
The highest rainfall recorded by the Met Office in Scotland was 49.8mm (nearly 2ins) at Inverbervie, about 10 miles south of Stonehaven.
This was followed by readings of 42.6mm (1.7ins) at Edinburgh's Gogarbank and 41.8mm (1.6ins) at the city's Royal Botanic Garden.
Mr Claydon said the average August total rainfall for Midlothian is 74.99mm (2.9ins) and 85.5mm (3.4ins) for West Lothian but an official statistic for the city of Edinburgh itself is unavailable. The suggestion is that about half a month's worth of rain fell in Edinburgh overnight for this time of year.
Other Met Office sites with high readings in Scotland included 35mm at Balmoral in Aberdeenshire.
Mr Claydon said Tuesday night's unusually persistent lightning resulted from high temperatures and severe convection which caused high levels of energy in the atmosphere.
He said it is important to note it is not uncommon to get large portions of a monthly total in one period of rainfall at this time of year, when the nature of rain is intense, heavy downpours.
The Met Office was unable to provide a figure on lightning strikes in Scotland but across the Uk, there were 3,260 overland strikes which includes cloud to land and cloud to cloud strikes.
A yellow 'be aware' warning for thunderstorms remains in place until 9pm on Wednesday for some parts of Scotland, including the Borders and Dumfries and Galloway and Perthshire and parts of the Cairngorms.
A SEPA spokesperson said: "We cannot comment on the difference between specific sites from other organisations but we understand there can be differences in gauges that are very close to each other due to the localised nature of thunder storms and the local topography.
"The Met Office statistics are the official data for the average rainfall across regions."